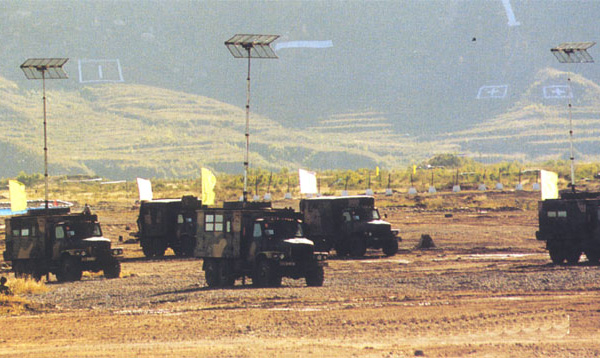 The MW-1500 is a digital microwave communication system for radio line of sight (LOS) information transmission. With different equipment configuration, the system can be used as a relay or terminal type communication node. The system is carried in a shelter mounted on a 6X6 cross-country truck.
MW-1500是一种数字式微波通信系统用于视距(LOS)无线电信息传送。采用不同的设备配置,系统能被当作一个中继或终端型通信节点使用。系统安装在一辆6X6越野卡车的车箱内。
The system operates at the frequency range of 1350~1850MHz. Its group transmission rate is 256/512/1024/2048 kbps. The system can provide 30 or 60 delta modulation digital voice channels. The auxiliary channels have one digital voice channel, one EOW channel and one data channel. The single hop communication distance is up to 30km in form of LOS.
系统工作在1350~1850 MHz的频率范围。它的群传送速率是256/512/1024/2048千比特秒(kbps)。系统能提供30或60增量调制数字音频信道。辅助信道拥有一个数字音频信道、一个公务电话接口(EOW)通道和一个数据通道。视距(LOS)单跳通讯距离达到30公里。
The PLA has been widely using microwave as an integrated part of its strategic and tactical communication networks. The MV-1500 is designed to provide a reliable communication terminal or relay station in the battlefield.
PLA已经广泛地使用微波当做它的战略和战术通信网络的一个整合部分。MV-1500设计提供战场上一个可靠的通信终端或中继站。
Last updated: 7 May 2007
最后更新: 2007年5月7日